Veterinarians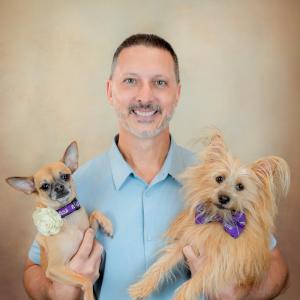 Dr. John Clines

Veterinarian and Medical Director
Degree: University of Tennessee College of Veterinary Medicine 1998
Advanced Training: Two years of post-graduate internships in small animal internal medicine, ophthalmology, emergency medicine, and surgery. Small animal acupuncture training from Chi Institute of Traditional Chinese Veterinary Medicine.
Special Interests: Ophthalmology, dentistry, geriatric medicine, internal medicine, ultrasound diagnostics, soft tissue surgery, and acupuncture.
Personal Interests: Fishing, golf, personal fitness, boating, and spending time with his wife and two children.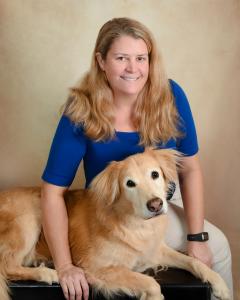 Dr. Heather Johnston

Veterinarian and Medical Director of Exotics
Degree: The Ohio State University College of Veterinary Medicine 2002
Awards and Certifications: Iams Veterinary Emergency and Critical Care Award, Association of Avian Veterinarians Focus Courses in Pathology, Diagnostics, Disease, Therapy, Surgery, and Anesthesia.
Facility Veterinarian: Busch Wildlife Sanctuary.
Special Interests: Dr. Johnston really does love it all from new puppy and kitten appointments to complicated internal medicine and surgery cases, to working with birds and exotics. All of it presents its own unique challenges and allows her to love going to work every day.
Membership: American Veterinary Medical Association, Association of Avian Veterinarians, Association of Exotic Mammal Veterinarian, Association of Reptile and Amphibian Veterinarians, and American Association of Zoo Veterinarians
Personal Interests: Swimming, fishing, photography, and all of the great outdoors!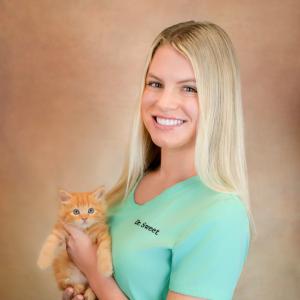 Dr. Jillian Sweet

Veterinarian and Assistant Medical Director
Dr. Jillian Sweet is a Jupiter Florida native, born and raised. As a Jupiter High School alum, she was active in many sports and extra-curricular activities such as soccer, track, national honor society, and class president.
After spending 4 years in the Midwest for veterinary school, Dr. Sweet returned to practice veterinary medicine in South Florida.
Degrees:
University of Florida - Bachelor of Science degree in Zoology. Class of 2011 GO GATORS!
Iowa State University College of Veterinary Medicine. Class of 2015 GO CYCLONES!
Special Interests: Dr. Sweet enjoys all aspects of Veterinary medicine with a strong interest in internal medicine and surgery.
She has performed surgeries on many different species ranging from panthers, skunks, raccoons, kinkajous, and more! She took elective courses in exotic animal medicine including a rotation spent working with zoo animals.
She also has a soft spot in her heart for kitties. At the age of 14, she started fostering cats and kittens ranging in age from just days old to 13 years old. To date, she has fostered over 100 cats/kittens and continues to remain active in shelter groups and fostering.
Membership: AVMA. American Veterinary Medical Association, FVMA. Florida Veterinary Medical Association
Awards and Certifications: Dr. Sweet received recognition for her efforts in shelter animal medicine which included performing research in the field, running a feral cat clinic to help control overpopulation, and hours of volunteering. From these efforts, she received a 2nd place research presentation award and the Maddies Shelter Medicine Award during her 4th year of veterinary school.
Personal Interests: In her free time, Dr. Sweet enjoys being active and doing anything outside. Specifically boating and going to the beach with a good book. She's an avid college football fan and she loves spending time with her fluffy orange kitty named Charlie and her husband, Daniel.
Dr. Jessica Duhon

Veterinarian
Dr. Duhon has wanted to be a veterinarian for as long as she can remember and grew up with a number of pets. She was born in upstate New York and moved to Atlanta at the age of 10. While completing her Bachelor's degree in Avian Biology at the University of Georgia she worked as a veterinary technician in an emergency animal clinic.
She attended Ross University School of Veterinary Medicine on the beautiful island of St. Kitts for her veterinary pre-clinical coursework and continued on to Auburn University College of Veterinary Medicine for her clinical year of study.
Degrees: Ross University/Auburn University, 2014
Special Interests: While she loves all aspects of veterinary medicine, her favorite areas include soft tissue surgery, ophthalmology, endoscopy, and emergency medicine.
Membership: AVMA, American Veterinary Medical Association, FVMA, Florida Veterinary Medical Association
Personal Interests: In her free time, Dr. Duhon enjoys kayaking, spending time at the beach, art, and traveling. Dr. Duhon has two cats, Bogey and Roxie, which she adopted while in St. Kitts, and a young mischievous yellow lab named Ottley.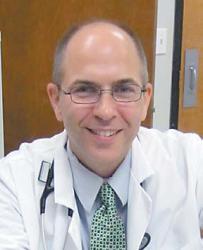 Dr. James Davis

Owner and Veterinarian
As an undergraduate student in biology, Dr. Davis worked for 2 years as an assistant in the animal medical sciences. This experience, combined with his love for animals, led him to choose a path to becoming a veterinarian. "We have the best job in the world," Dr. Davis says. "Diagnosing and treating medical conditions in pets can be challenging and rewarding, but preventing disease through early diagnostics and client education is far more rewarding."
Dr. Davis strongly believes in the importance of community service. By playing an active role in local programs, he hopes to impact the community by always giving back.
Degree: Ross University School of Veterinary Medicine in 2001 and completed his final year of clinical training at The University of Georgia
Special Interests: Dr. Davis enjoys all aspects of Veterinary medicine with a strong interest in ultrasonography, orthopedic surgery, dermatology and urology.
Personal Interests: His family includes his wife Susie, daughters Ann and Helen, 2 cats "Poof" and "Kittyboo" and a Cavalier King Charles Spaniel named "Snickers". His hobbies include cycling, hiking, and fishing.
Staff
Monique

Pack Leader, Owner and Registered Veterinary Nurse
Monique started at Harmony in 1998 as a veterinary nurse. She now has the honor of leading the Harmony team and continuing the philosophy that Dr. and Mindy Cox started in 1981. Monique enjoys cooking, vegetable gardening, hiking, paddle boarding, and hanging out with her husband, Ron.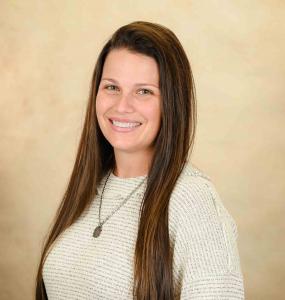 Quinn

Practice Manager
Quinn joined Harmony in 2003 as a veterinary nurse and has since held various positions, including client service coordinator, veterinary nurse, and inventory specialist. Currently, she fulfills the important role of Practice Manager, ensuring the smooth operation of our organization. In her personal life, Quinn shares her home with three cats: Mango, a Maine Coon, Kiwi, an energetic shorthair, and Olive, another lively feline. Additionally, she cares for two Australian Cattle Dogs named Puppy and Bindi, four cows, a horse, and a pig. Quinn loves spending quality time with her husband and daughter, as well as enjoying boating and tending to their property.
Shanda

Certified Veterinary Nurse
Stacey

Veterinary Nurse
Stacey has been a valued part of our family since 1990. Over the years, she's developed strong bonds with pet families in our community. She has a special interest in behavior and training and has helped many a young dog grow up well. She lives on a small farm with her husband, two horses, two cats, two birds, and four dogs.
Anne

Veterinary Nurse
Anne joined Harmony in 2006 as an assistant and is now a valued veterinary nurse. She is proud dog "mom" of a spoiled Shih Tzu mix named Shimmy, a Basset Hound named Toola and a Tortoise named Sheldon.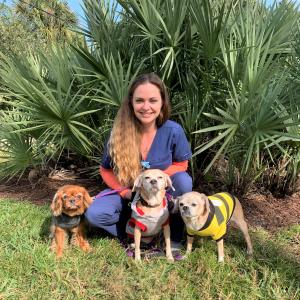 Danyel

Veterinary Nurse
Danyel came to Harmony in 2008. She has a special interest in learning about and promoting low-stress handling for all patients. Danyel has a Puggle, Norma Jean, a Maine Coon kitten named Jitterbug, and a DSH boy named Church. They are all horror movie buffs.
Angie

Veterinary Nurse
Angie came to Harmony in 2016. She holds a special interest in those harder to handle. Patience, understanding, and hard work go a long way. This makes her a great part of our team. Her newest addition, a fear-aggressive rescue Miss Malu, has shown her, with trust, love, and guidance, anything is possible.
Jezabelle

Certified Veterinary Nurse
Jezabelle has been a veterinary nurse since graduating from the Bel-Rea Institute of Animal Technology in 2015. She's always loved animals and has worked with them long before that. Since moving to Florida in 2019 she has so far acquired a cat named Chevy. After being found in the engine of one of our awesome CSCs cars. In her downtime, she enjoys being at home and working on her house. Jezabelle has been part of the Harmony family since 2019 and hopes to be part of it for years to come
Casey

Veterinary Nurse
Casey joined the Harmony team as a nurse in October of 2021. She shares a home with a dog named Gus and two cats Finn and Oliver. In her free time, she enjoys spending time with her friends and family.
Kylee

Veterinary Nurse
Kylee has been with Harmony since 1999. Her favorite part of the job is working in surgery. She shares her home with her handsome pit bull Captain.
Jordan

Veterinary Nurse
Mary

Veterinary Nurse
In 2020, Mary joined Harmony as an assistant and has since advanced her career to become a nurse. She shares her home with two adorable kittens named AJ and Allie. When she's not working, Mary finds joy in exploring new destinations and enjoys horseback riding.
Nicole

Veterinary Nurse Assistant and Team Leader
Nicole started at Harmony in August of 2021 as an assistant and has since become the Team Leader for the assistants. She has a shepherd mix named Rex, and four cats named Milo, Monkey, Oscar, and Little Bit. There are many things Nicole loves about her job, she enjoys working in surgery and loves knowing that she can help make a difference for those with no voice.
Taylor

Veterinary Nurse Assistant
Taylor, who joined the Harmony Team in July of 2022, shares a passion for animals since a young age. Actively involved in 4-H and the Future Farmers of America (FFA) throughout high school, Taylor's interest in veterinary medicine was further fueled. Whenever the opportunity arises, she enjoys working with horses and being outdoors.
Matt

Veterinary Nurse Assistant
In 2022, Matt became a part of Harmony as a Kennel Tech, where his enthusiasm for the medical aspect of the hospital led him to become a Veterinary Assistant. At home, Matt cares for a Chihuahua mix named Fella. During his free time, he likes snorkeling and watching horror movies.
Christin

Veterinary Nurse Assistant
Jay

Client Service Coordinator and Team Leader
Jay joined Harmony in 2010. Her favorite part of the job is seeing people and their pets happy! Jay enjoys traveling and spending time with her husband and two sons.
Denise

Client Service Coordinator
Denise started at Harmony in 1997 as a Client Service Coordinator. Harmony has been a second home to her. Her outgoing personality gives her the ability to convey warmth, knowledge and is able to address whatever the client may need. She feels lucky to have the opportunity to make a positive difference in the relationship between owners and their pets.
Janet

Client Service Coordinator
Janet came to Harmony in 2000. Her passion for pets and the customer service industry keep her loving what she does. Janet looks after the gift boutique and keeps it filled with things animals will love along with their owners. In her spare time, she loves to walk outdoors, cook, read, entertain family and friends with her husband, and her Maine Coon "Pixie".
Cee

Client Service Coordinator
Cee started with Harmony in April of 2004 and left for a few years and has happily returned to us again in July of 2016. Cee enjoys spending time with her (2) four-legged family members Coda and Makani. Cee really enjoys her Client Service Coordinator position and coming to work every day. She feels blessed to be back with her Harmony family & friends. She strives to be an advocate for our clients, our patients and for Harmony as well.
Marissa

Client Service Coordinator
Marissa started at Harmony in 2016 with a lot of experience working at hospitals in the veterinary field in N.Y. She spends most of her free time with her husband and 3 boys. Together they enjoy their game and movie nights, as well as, outdoor activities such as bike riding, camping, and fishing to name a few. In addition to her human family members, she enjoys the company of their two dogs, Bow and Remi, their cat Cali, their bird Rio, and their 4 tortoises.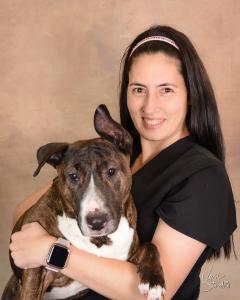 Angela

Client Service Coordinator
Angela started with Harmony February 2019. She is a Client Service Coordinator and loves working with our clients & patients. She devotes time to charity work & fundraising for organizations such as Muscular Dystrophy Association, The Bull Terrier Rescue League, Toys for Tots, and Hospice. She has worked in child care as well as community parks & recreations. Angela loves her furbaby Jade, a Bull Terrier rescue. She also is a third-degree black belt in Tae Kwan Do.
Yvonne

Client Service Coordinator
Yvonne joined the Harmony family in 2021 and is a Florida native. Alongside her two children and her loving boyfriend, Yvonne shares her life with two delightful pets: a tuxedo cat named Susie and a Chihuahua Mix named Helen. During her free time, she enjoys boating and spending time with her loved ones.
Kaitlen

Client Service Coordinator
In 2022, Kaitlen began her journey with Harmony as a part-time Client Service Coordinator while still attending high school. Alongside her role, she actively participated in her local 4-H club and was also a member of the Future Farmers of America (FFA). After graduating in 2023, Kaitlen has set her sights on pursuing a career in healthcare and is currently enrolled in college with aspirations to become a Registered Nurse. During her free time, Kaitlen dedicates herself to training sessions with her horse, Captain, for barrel racing.
Tykiria

Client Service Coordinator
In 2022, Tykiria (Ty) became a member of the Harmony family. She possesses qualities of compassion, love, and patience. Her lifelong passion has been working with animals, as they never fail to bring joy, regardless of the situation. She currently has three pets of her own and aspires to have a few more. At Harmony, her goal is to meet the needs and exceed the expectations of all clients, spreading smiles along the way.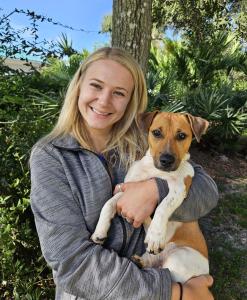 Emily

Client Service Coordinator
Eric

Camp Counselor
Eric joined the Harmony team in 2010. He is known as the dog whisperer. He has a way with the boarders that come in a little unsure of the situation and puts them at ease.
Milo

Camp Counselor
Milo joined our family in 2022. Her favorite part of the job is making friends with the animals.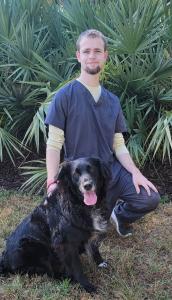 Ryan

Camp Counselor
Ryan joined Harmony in 2022 as a camp counselor. He shares his home with 3 dogs and 30 quail! He has a great interest in and knowledge of some exotic animals.
Fiora

Camp Counselor
In 2023, Fiora started as a Camp Counselor. Alongside her new role, she shares her life with three guinea pigs. Throughout her life, Fiora has had the pleasure of caring for various animals, including chickens, horses, dogs, cats, turtles, and a parrot. Her favorite thing about animals is getting to know each of their personalities. Among all dog breeds, Fiora holds a special fondness for pit bulls.
Dominique

Pet Stylist
Dominique joined our family in 2015 with a wonderful personality and a knack for making our patients look ready for the runway.
Erica

Pet Stylist
Erica joined Harmony in 2018 with nine years grooming experience and she truly enjoys helping pets look their best! She has an Australian Shepherd named Archer and a tuxedo cat named Kylo. In her spare time, she enjoys competing in agility, dock diving, obedience, rally and lure coursing with Archer.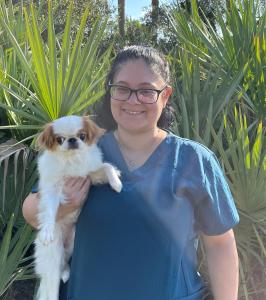 Donnie

Pet Stylist
Donnie has joined our team in 2021. She brings 14 years of experience in grooming cats & dogs. She has 3 dogs, Chickpea (Japanese Chin), Maci (Pointer Mix), and Rhino (Blue Pitbull). She also has 2 ferrets Dillinger & Pearl who she has rehabilitated. She enjoys spending time with her family & road trips.